Thirty years ago IKEA arrived in the UK and transformed the way we live. There cannot be a house in the country that does not contain something from IKEA whether it be a flat pack desk, a Klippan sofa, or a pack of tea lights.
Its mission is simple, 'to create a better everyday life for the many people' (ring a bell Jeremy Corbyn?) and whilst many of us have battled to assemble a Billy bookcase or wrestled a set of blinds through the checkout, vowing 'never again' after two hours shuffling round the store on a bank holiday, we still feel a tremendous sense of warmth towards the store that brought good design at low prices to everyone.
Long before noir crime series and little books of hygge, IKEA introduced us to Scandinavian style and in 1996 urged us in a memorable TV campaign to 'chuck out your chintz'. As someone who started her career in qualitative research at about the same time as that campaign was launched I can testify to the power of that proposition. You spend a lot of your time in other people's living rooms when you moderate focus groups, and when I started recruiters' front rooms were a by-word for clutter: floral-patterned sofas, swirly carpets, big dralon sofas (always green or brown), shelves and mantelpieces crammed full of ornaments and knick-knacks. It was always impossible to find anywhere to put your stimulus material and impossible not to find yourself leaving your tape recorder behind or forgetting one vital piece of polyboard that remained propped up against the pouffe.


But then as the 90s progressed our recruiters, like everyone else, chucked out their chintz and the style of those sitting-rooms changed utterly. Floral patterns vanished, colours went neutral, cream or beige, bowls of pot pourri were replaced by scented tea lights and net curtains gave way to blinds. By 2000 English ornamentation had yielded to Scandi minimalism
What was revolutionary then is commonplace now – a tribute to the success of the IKEA revolution. But it is not only an outstandingly successful global company that has created products that everyone wants at a price that everyone can afford it also does a great job at nurturing and building the Ikea brand. Despite its low prices it knows the importance of not talking about it – its advertising is there to build value, to touch our emotions, to encourage us to feel Ikea can offer us a better way to live.
Its tone of voice now may be subtler than the brash and uncompromising message of the 90s, but it continues to create advertising that is memorable, original and utterly true to the brand. The work is bold, creative, fun. It relates back to a big brand idea but stays rooted in the product. It is brave and confident enough to play with a much broader palette of emotions than most brands would dare.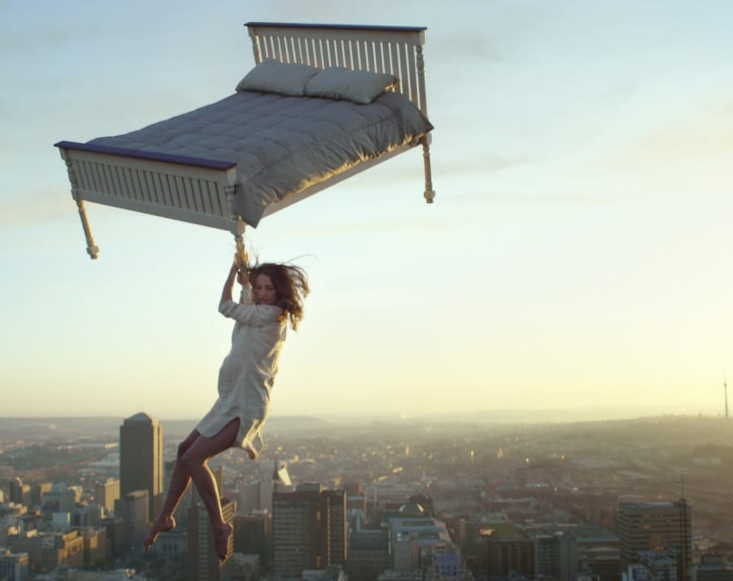 An ad for bedding showing a woman tumbling through the sky to the accompaniment of Prospero's farewell speech from The Tempest has a tinge of melancholy and a feeling of slight unease even though she lands safely in her bed as morning breaks.
An ad for storage shows a couple shut up in a claustrophobic house of clutter who can barely see each other through the tottering piles of books and shoes and then find their sex life re-kindled after they discover how they can miraculously de-clutter with the help of Ikea (now that's what I call a proper storage solution).
Who but IKEA would advertise storage by showing magical T-shirts flying home like migrating birds and tucking themselves effortlessly into drawers and cupboards?
Or in a very different tone of voice, use monkeys in an ad for kitchens set in the rain forest where the mischievous primates gleefully almost take the kitchen units to pieces?
Ikea has even parodied the biggest brand in the world in a witty ad for its traditional catalogue with exactly the visual feel and voice intonation of an Apple ad, 'intuitive design, no cable and a battery life that lasts forever'.
In spite of an impressively varied back catalogue the work still feels quirkily on brand. Like Honda or O2 it knows the power of using a consistent voiceover artiste for the sign-off. This is a brand that has consistently reflected back our most deeply felt feelings about our homes but also asked us to look at the mundane and the banal with fresh eyes.
Many brands talk about Brand Purpose these days, only a few manage it as effortlessly as IKEA.
Happy 30th – here's to the wonderful everyday.